ReadyWriter™ Penmanship Drills...
turn sloppy scrawlers
into skillful scribes!
"My child who wasn't fond of picking up a pencil is now
doing so and loving it!"—Mrs. Faith B. NH
"ReadyWriter has worked a miracle on my younger children."
—Mrs. Carol K. NE
"Truly improves handwriting. They write neater than I can!"
—Mrs. Connie G. FL
ReadyWriter Features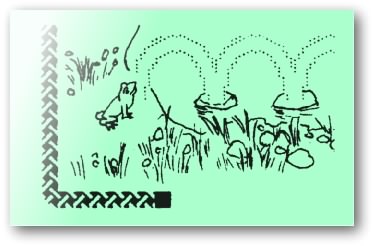 Beautiful, graphic-based exer­cises add fun, put stylus skills into an artistic context!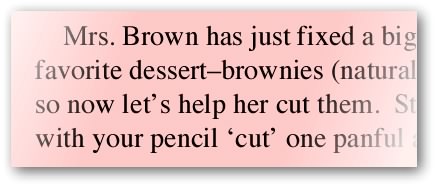 Brief, fun story for each exercise adds interest, tells how to complete the page!

Bible verses relate to pen­manship and writing!

Achievement Certificates ecourage student progress!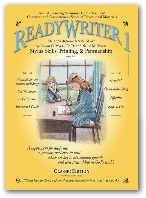 "Normal" penmanship's page after page of static letters to draw on lined paper can quickly become a bore for youngsters.
That's why the pictorial approach of ReadyWriter is so delightful! Each of ReadyWriter's 16 beautiful exercises portrays a scene from Farmer Brown's farm, with a brief, fun story to set the context. While your children complete various visual elements (missing parts!) in the pictures, they get lots of practice in stylus skills, eye-hand coordination, and forming complete printed characters — more than in many beginning penmanship workbooks — with more enjoyment as well!
ReadyWriter starts with exercises that drill your students in the six fundamental stylus strokes from which letters and numerals are formed. What's so neat, though, is that your 4 - 8 year-olds don't know they're practicing "fundamental stylus strokes"—they're having fun filling-in missing parts of pictures!
---
Here's what ReadyWriter covers...
and it's
free

in CalcuPak 1!


Each beautiful ReadyWriter® exercise portrays a scene from Farmer Brown's farm, with a fun story from the Instructor's Guide to set the context. ReadyWriter starts with exer­cises that drill your students in the six fundamental stylus strokes from which printed and cursive letters and numerals are formed. But your kids don't know they're practicing "fundamental stylus strokes"— they're having fun filling-in missing parts of pictures!

Although ReadyWriter focuses primarily on printed penmanship, several of its exercises carry over nicely into cursive skills. So even students in the higher grades often benefit from doing ReadyWriter!

In later exercises, as your kids begin to practice complete letters, the characters will likely flow easily, without that legendary tedium and struggle, and without that ragged, jagged appearance which so often plagues the penmanship of young students. That's because ReadyWriter teaches more than penmanship—it teaches stylus skills and eye-hand coordination!

1. ReadyWriter comes as a free bonus unit in CalcuPak 1, so you can print out its pages and Achievement Certificates for your kids.

2. Or, you can purchase the pdf of the ReadyWriter by itself. This pdf includes the drills, instructor's guide, stories accompanying each drill, and the achievement certificate!

3. Additionally, ReadyWriter is available as a pre-printed workbook! The ReadyWriter workbook has ten copies of each of its 16 exercises, for a total of 160 pages, printed on quality paper in a rainbow of colors. Your child takes just minutes each day to repeat a given drill until he can complete it smoothly and confidently. This typically takes several tries. Thus, ReadyWriter carries the average youngster through the school year, with extra copies for review or added practice.

You can make copies of the drill sheets for use within your immediate family only. The rights to use the ReadyWriter drills in a multi-family setting, such as a school classroom, are included in our CalcuPak 1 Teacher's Edition and School Edition, found on our order page.

Note: we do have the ReadyWriter Instructor's Guide, which includes the stories for each drill, available in Spanish. We can provide this to our customers for free upon request.


ReadyWriter:
Stylus Skills, Eye-hand Coordination,
and Beginning Penmanship
- Ages 4 thru 8 -

See the drill levels in ReadyWriter:
Actual pages are 8½ x 11 inches.
Here's a sample ReadyWriter story . . . Level 1: Brownies
Mrs. Brown has just fixed a big batch of the Brown family's favorite dessert—brownies (naturally)! They've cooled off a bit, so now let's help her cut them. Start at the top of the page, and with your pencil 'cut' one panful at a time, from top to bottom and then from left to right. Try to make nice square brown­ies of the same size, and try not to cut into the middle shaded area of the brownies. It might be good to have some real brownies sometime, too!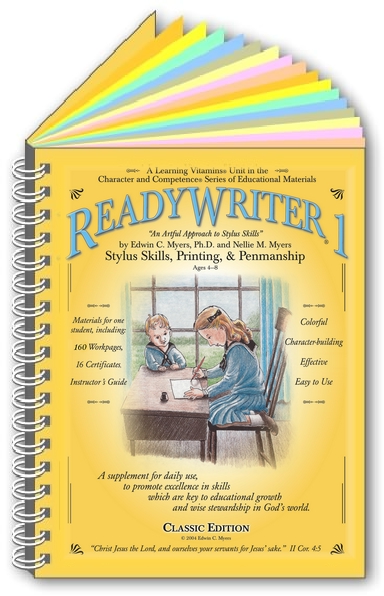 "LOVE ReadyWriter!!! Have used it when each of my children turns four. Great!!" — Cindy T., PA


Click here to try ReadyWriter samples with your kids!
CalcuPak 1 Home Edition includes the ReadyWriter,
and is only $29.95 via download or
$35.95 + shipping on CD (USA only).
The pre-printed ReadyWriter workbook is just $25.95.
The CalcuPak Teacher's Edition and School Edition
are also available on our order page!